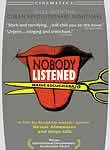 If you are curious about Cuba and what all the hullaballoo is about, there is a movie you should rent from netflix. It's called Nobody Listened. It's a 1984 documentary about human rights in Cuba (or the lack thereof) comprised mainly of a series of first person accounts of the conditions in which political prisoners were/are held in Cuba. The interesting thing is that the people speaking are not the Batistianos that all fidelistas claim exiles to be. There are men and women, young and old, black and white speaking about the atrocities inflicted upon them by castro and his regime. The most striking part is when proud communists denounce castro. I repeat, these are unapologetic Cuban communists denouncing castro for his human rights abuses.

The thing that really kicks you in the gut is knowing that when the movie was filmed it looked like the world was finally opening its eyes to the reality of Cuba, that the word was getting out there. But here we are 22 year later and it's the same old story. The international left loves to talk about social justice and human rights but they continue to be apologists for one of the longest running human rights abusers in the history of the world. Unfortunately there is still nobody listening.

Two notes on the movie. If you don't speak Spanish it's going to be rough following the movie because the English subtitles are white and the backgrounds are often light/white. And secondly there is a a very passionate discourse at the end of the movie by Eloy Gutierrez Menoyo who later returned to Cuba to try to start a "dialogue" with the regime. I'll leave that to the reader to judge for himself/herself.